You read: penjelasan lengkap coordinating conjunctions
Good morning class!!!
Hello friends, how's your day? Do you remember our last topic? Last topic we discussed Penggunaan So, Too, Neither dan Either. Now we are going to discuss Coordinating Conjunctions. Kali ini kita akan membahas mengenai penjelasan lengkap coordinating conjunctions.
"Apa pengertian coordinating conjunctions?" "Apa fungsi dari coordinating conjunctions?" "Apa saja yang termasuk coordinating conjunctions?" dan "Bagaimana penggunaan coordinating conjunctions dalam kalimat?" Let's discuss those questions!
Pengertian Coordinating Conjunctions
According to Gucker (1966: 72), "coordinating conjunctions are normally used to connect sentence elements of the same grammatical class: nouns with nouns, adverbs with adverbs, clauses with clauses".
Menurutnya, coordinating conjunctions adalah kata hubung yang biasa digunakan untuk menghubungkan elemen-elemen kalimat dalam kelas tata bahasa yang sama, contohnya menghubungkan:
kata benda dengan kata benda,
kata keterangan dengan kata keterangan,
klausa dengan klausa.
Contoh dalam kalimat:
I will buy eraser, pencil, and ruler. (menghubungkan kata benda)
She speaks fluently but quietly. (menghubungkan kata keterangan)
My mother is kind and beautiful. (menghubungkan kata sifat)
I like reading, but he likes writing. (menghubungkan klausa)
Jenis dan Fungsi Coordinating Conjunctions
Ada tujuh macam coordinating conjunctions, diantaranya: and, but, or, nor, for, yet, and so. Agar lebih mudah diingat, coordinating conjunctions biasanya disingkat menjadi FANBOYS: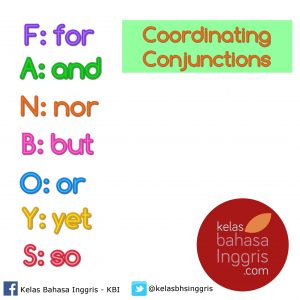 Menurut Wishon (1980: 135), ketujuh coordinating conjunctions tersebut memiliki fungsi yang berbeda:
For menjelaskan alasan, sebab atau tujuan.
And untuk menambahkan satu hal ke hal lainnya.
Nor digunakan untuk mengungkapkan pernyataan negatif.
But menunjukan keadaan kontras.
Or menunjukan pilihan.
Yet menunjukan keadaan kontras.
So menunjukan dampak atau akibat.
Penggunaan Coordinating Conjunctions dalam Kalimat
Berikut adalah beberapa contoh penggunaan coordinating conjunctions dalam kalimat:
He went to library, for he read some books.
I ate burger, chicken fillet, and spaghetti.
I won't go for a walk nor for swimming.
Andi is clever, but he is careless.
You can write by using pen or pencil.
The alley was dark, yet I found my way.
It is raining, so I use umbrella.
Okay, class. Bagaimana materinya? Nah, itu semua materi mengenai Penjelasan Lengkap Coordinating Conjunctions meliputi pengertian, fungsi dan penggunaan coordinating conjunctions dalam kalimat.
Sekarang sudah tahu kan pengertian dan penggunaannya? Terus belajar dan berlatih ya. Semoga materi ini dapat menambah pengetahuan kita semua.
Baca juga: Penggunaan So, Too, Neither dan Either, Idiom Bahasa Inggris, Daftar Lengkap Irregular Verb
Mau tau kemampuan Bahasa Inggrismu??? Cek Bahasa Inggrismu DISINI
Penjelasan Lengkap Coordinating Conjunctions
Reference:
Gucker, Philips. (1966). Essential English Grammar. Dover Publications, Inc: New York.
Wishon, George E and Julia M. Burks. 1980. Let's Write English Revised Edition. Litton Educational Publishing, Inc: New York.
Coordinating Conjunctions. http://grammar.yourdictionary.com/parts-of-speech/conjunctions/coordinating-conjunctions.html Accessed on February 22, 2016 at 7 pm.
Any Question???
Silahkan ajukan pertanyaan, komentar dan tanggapan teman-teman pada kolom komentar dibawah ini.
Share!!!
Silahkan share materi tersebut agar semua orang dapat terus belajar dan berbagi pengetahuan tentang Bahasa Inggris. Terimakasih.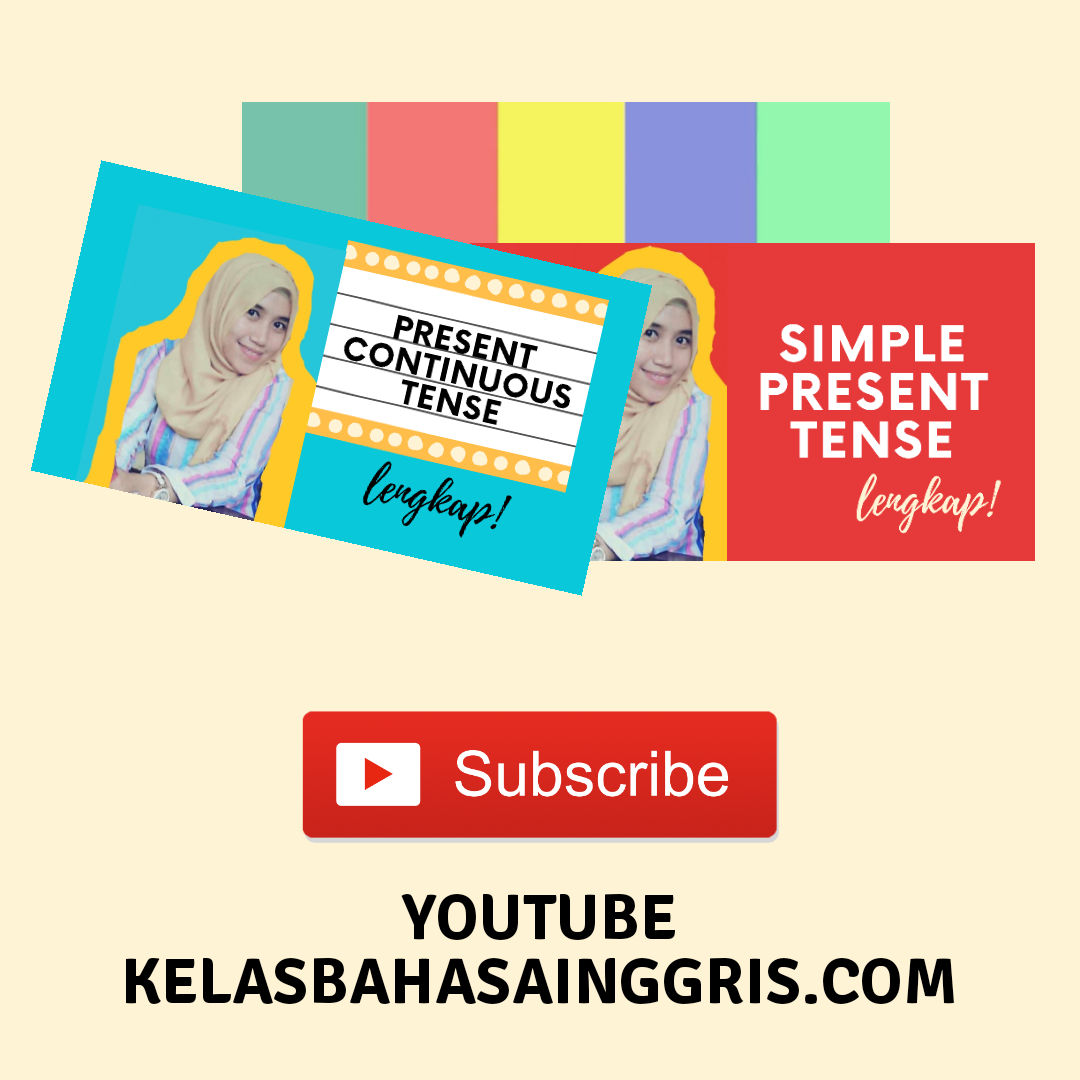 Hello my name is Efin Marifatika. I'm founder of kelasbahasainggris.com. Please feel free to contact me at efin.marifatika@gmail.com