WELCOME TO KELASBAHASAINGGRIS.COM!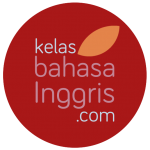 Assalamu'alaikum Warahmatullahi Wabarokatuh.
Hello Kelas Bahasa Inggris friends!!!
First of all, I would like to say THANKS to Allah SWT, the Most Gracious and the Most Merciful, to my parents, my beloved hubby, Pepen S Diatna, my teachers, my lecturers and especially thanks to everyone who visits and joins this blog.
Allow me to introduce my self. My name is Efin Marifatika. I was born on May 16th, 1992. I graduated from Nusantara Islamic University (UNINUS) Bandung. Learning English is my passion while my hobbies are reading, writing and watching movies. I like sharing and joining English Communities.
This blog kelasbahahainggris.com is intended to share everything about English, such as lessons, pictures, conversations, idioms, exercises, games, quizzes and quotes. This blog is also open to everyone who wants to share English. New post will be published twice a week, every Monday and Thursday.
I hope this blog can be beneficial for us. Thank you.
Wassalamualaikum Warahmatullahi Wabarokatuh.
Don't forget to follow Efin Marifatika on:
About KelasBahasaInggris.com